An effective anti-snoring product
Reduces snoring up to ten-fold, with a lasting effect of up to 8 hours

Silence Anti-snoring spray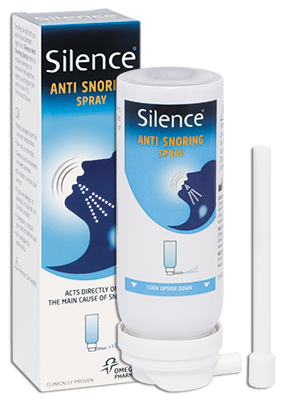 A common, growing and underestimated condition:
1. 47 % of the population is affected by snoring (adults 18+)* (source : *U&A France – 2009)
2. Snorer profile is skewed towards males.
3. This condition is becoming more prevalent due to an ageing and obesing population.
4. An average snore is between 60 to 85 dB, similar to the loudness of an alarm clock or a vacuum cleaner.
5. Half of partners say that snoring has a big impact on their quality of life.
Snoring consequences:
1. Relationship difficulties: 34 % of partners sleep permanently or occasionally in different rooms and the snoring condition is a source of argument.
2. Health problems due to poor sleep include: type 2 diabetes, bronchitis, cardiovascular disease and obesity.
How Silence works:
Silence anti-snoring solution acts on the root cause of snoring, the throat, and has a fourfold function:
1. Keeps the throat lubricated
2. Remains active throughout the night
3. Reduces the vibrations in the throat
4. Therapeutic benefit, reduction of snoring noise, from repeat use.

How to use Silence Anti-snoring Foam Spray:
To obtain the best results, follow these instructions and use at bedtime.

1. Shake the can vigorously.
2. Take the additional diffuser provided, attach it to the nozzle of the dispenser and secure tightly.
3. Hold the can upside down and insert the nozzle into the back of your mouth. With your thumb supporting the applicator of the bottle, press the dispensor and spray the back of the throat for 1 second.
4. Swallow.
Perform step 3 and 4 three times to optimise the effect of Silence Anti-Snoring Foam Spray. Additionally, regular use of Silence may help stabalise the tissues and contribute to a reduction of snoring noise.
SILENCE IS NOT A TREATMENT FOR SLEEP APNOEA. IF IN DOUBT CONSULT YOUR DOCTOR. IF YOU ARE ALLERGIC TO PEANUTS OR SOYA, DO NOT USE THIS PRODUCT. IF YOU ARE PREGNANT, CONSULT YOUR DOCTOR BEFORE USE. NOT SUITABLE FOR ASTHMATICS. IF SYMPTOMS PERSIST, SEE YOUR HEALTHCARE PROFESSIONAL.
Available at selected leading 
pharmacies
For more information visit www.silencesleeping.com